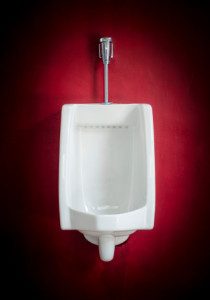 If you've made the choice to install waterless urinals, you know that the maintenance is very important to these fixtures. Proper maintenance includes specific waterless urinal supplies, which promote the hygienic function of these fixtures and improve local environmental quality.
Whether your waterless fixture is part of a brand new construction or a remodeling project, there is a difference in how these waterless systems are maintained when compared to flushing urinal systems. In most cases, a replaceable cartridge allows urine to enter the drain and prevents gases or liquids from returning. These cartridges last several months at a time, depending on manufacturer, and reduce the maintenance on these fixtures between cartridge changes to a simple all-purpose cleaner on the interior surfaces. A simpler, less-toxic cleaner is possible because the interior of the urinal is not moistened with every flush, and this drier environment is less hospitable to bacteria.
At hybridH2O, we have the best waterless urinal supplies at the lowest prices. Our cartridges fit not only our own waterless urinals, but also the models of other manufacturers. Our cartridge technology allows us to create a more reliable and longer-lasting product at lower cost to you, the consumer. Part of our success is the result of our sealant-free design, and the ability to work with zero-flush or low-flush urinals.
Waterless urinal supplies can eat into your maintenance budget, but you can have great functionality and long cartridge life without sacrificing your savings on water and sewer services. Cartridges made by us ay hybridH2O can do all of the above. Give us a try today!