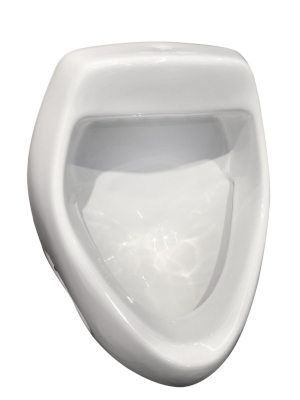 Why waterless urinals? For anyone with an open mind who's seen enough of them, it's not a strange question. The standard urinal is not very clean or effective in its use of water. And yet, it's not odd for someone to complain that progressive thinking about urinals is out of place. Luckily, explaining the merits of waterless urinals isn't difficult.
The reason anyone would be put off by the thought of waterless urinals is simply because restrooms are where people go to feel safe and not worry. They are a sort of safe space, a time out zone where someone does his business before getting back into the fray of life. Worrying about pollution while his fly's open and his back is turned to a room full of men is not a good time to fret about environmentalism.
With the simple explanation that waterless urinals use less water and therefore cost less money to maintain, the patron can automatically adjust to an argument of value. There's nothing bizarre about saving money. In fact, if you're debating with someone who still isn't satisfied with this argument, it's your opponent who's now arguing against saving cash.
Whatever your reasons for installing waterless urinals, we at hybridH2O want to be your urinal provider of choice. Our units are elegant and efficient, and our Smarty Bee urinal cartridges trap the urine underneath to eschew odors with no problems.